Compressed air cars
By Murray Bourne, 11 May 2006
There are 2 very promising inventions that use compressed air as the energy source. The first, from France, drives a piston engine (which does not require any ignition of a carbon-base fuel).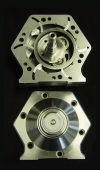 The second, which seems more promising, is from Australia and it drives a light (13kg) and simple rotary engine.
The compressed air is held in tanks made of carbon fibre. Why? If the tanks are damaged in an accident, a metal-based tank would explode and cause a lot of damage. Carbon fibre will split and cause little damage. besides, it is light and very strong.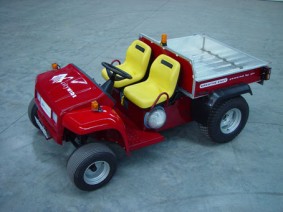 This is a small vehicle powered by the Di Pietro rotary engine.
The current high price of oil means these alternative energy source proposals can get a serious hearing - and the oil companies have less impact on the US & other high polluting governments.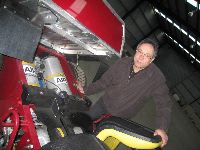 The inventor, Di Pietro and his engine.
There is more info on similar engines at Quasiturbine.
Bring on the alternatives to gas guzzling cars!
See the 6 Comments below.