Carbon-neutral town leading the way - Kangaroo Valley
By Murray Bourne, 02 Aug 2007
Kangaroo Valley is a pleasant, sleepy village south of Sydney, in New South Wales state, Australia.
They are attempting something that no government has had the foresight to even try. They are aiming to run the town's businesses in a carbon-neutral way.
See Town aims to be first carbon-neutral tourism destination.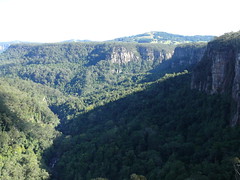 Kangaroo Valley [Image source]
Be the first to comment below.