Fillet radius for eyeglass lens
[Solved!]
Pritam 11 Feb 2016, 08:20
My question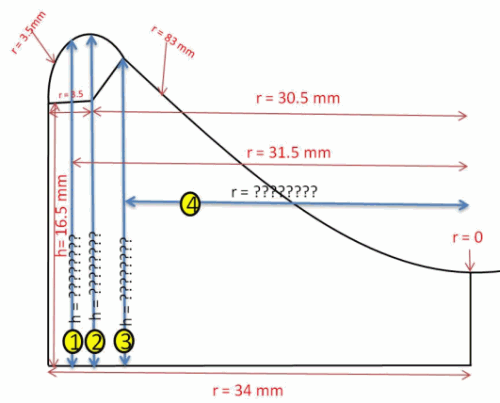 i want to find heights as given in the image. i have apply radius fillet command with one line and one arc radius is 83mm
Fillet radius is 3.5mm
Inner curve radius is 83mm
Filler starting point height is 16.5mm
Part radius is 34mm
I have one problem I want to find out this 4 thing using this available value
I am trying to give fillet radius of 3.5mm with line and arc of 83mm radius
no 1 I have r = 31.5mm then how to find h=??????
no 2 I have three value h=16.5mm , r = 30.5mm and second fillet r = 3.5mm then how to find h= ?????
no 3 I have only radius 83mm and fillet radius 3.5mm and h = 16.5 mm the what is 3 and 4 value
What is intersection point height no 3 with radius 3.5 and h = 16.5(starting point of fillet) and radius = 83mm
can you pls help me out for this question
Thanking You
Pritam
Relevant page
What I've done so far
I know the formula for a circle, but I can't see how to use that in my problem.