Michael Jackson in numbers
By Murray Bourne, 29 Jun 2009
I first learned of Michael Jackson's death on Twitter. That was before the flood of tweets about Michael almost brought down the micro-blogging site.
To give you an idea of the traffic volume, here's a graph from Twist showing that at its peak, around 22% of all posts on Twitter were about Jackson.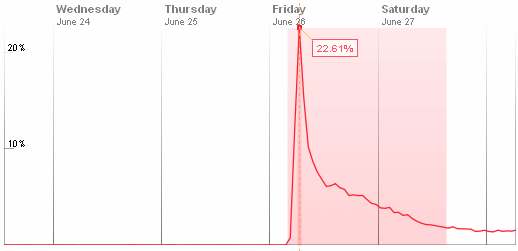 This ABC News article has more on the slowdowns and crashes caused by Web users wanting to learn more about Michael (searching for lyrics was very popular on Google) or pay respects.
Finally, my thoughts on Jackson — a tragic end to a tragic life.
See the 1 Comment below.