Vectors
[Solved!]
asad 07 Oct 2016, 07:45
My question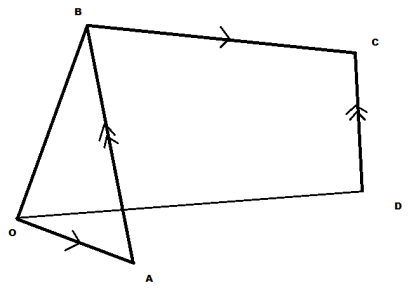 In the figure (also at http://prnt.sc/cqth0m), vector OB is three times longer than OA, BC is parallel to OA and twice its length. CD is parallel to BA.
Angle AOB = 60 degrees. If A and B have position vectors a and b respectively relative to O; and CD = kBA, find:
a) vector expression for BA and OD
b) find k if OD is perpendicular to AB
Relevant page
What I've done so far
(a) BA = BO + OA = -b + a = a-b
Now how to find OD?
Since OB = 3OA, does this mean b=3a? And what is use of this information?
BC=2OA
CD=pBA
OD= OB+BC+CD = b+2a+p(a-b),which is not correct I know
For (b),AB would be =b-a, and OD would be found from (a), but what happens if it is perpendicular?