Classic math mistakes
By Murray Bourne, 21 Dec 2009
Here's a collection of mistakes in math. It's interesting these mistakes are common all over the world. It could be something to do with the crazy inconsistencies in the way math is written. (See my Towards more meaningful math notation.)
This is Mistake #17: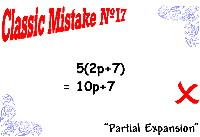 And this is Mistake #01: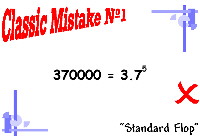 You can download (free) PDFs of these in color and black and white. There's also an MP3 commentary on each one.
This page gives an overview of all resources available: Classic Mistakes.
Don't miss the Freebies page, which has more posters.
See the 2 Comments below.