Acceptance of evolution
By Murray Bourne, 01 Sep 2006
I'm shocked. But then, with the woolly debates that go on endlessly in the US, it's not surprising really, that only 40% accept evolution and 40% believe it is false. The rest don't know.
A comparison of peoples' views in 34 countries finds that the United States ranks near the bottom when it comes to public acceptance of evolution. Only Turkey ranked lower.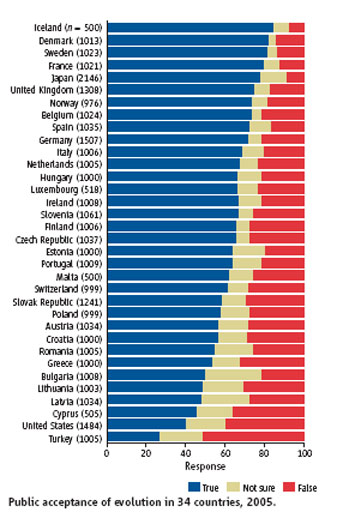 Sigh, and this is the most advanced country in the world...?
"American Protestantism is more fundamentalist than anybody except perhaps the Islamic fundamentalist, which is why Turkey and we are so close," said study co-author Jon Miller of Michigan State University.
Sources: Livescience.com, U.S. Lags World in Grasp of Genetics and Acceptance of Evolution (no longer available).
Be the first to comment below.