The Big Mac index
By Murray Bourne, 03 Jun 2007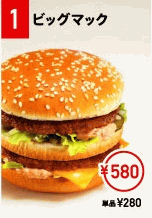 A BIg Mac in Japan costs
280 yen, or US$2.31.
My sister-in-law is on her way to the UK. She asked a good question: "How much does one British Pound buy, anyway? How does it compare with the Australian dollar (currently worth about 41p, or 0.41 pounds)?"
I told her about the Big Mac index, which The Economist magazine suggests is a way to compare the actual value of currencies.
The Economist.com says in The Big Mac Index article:
The Economist's Big Mac index is based on the theory of purchasing-power parity (PPP), according to which exchange rates should adjust to equalise the price of a basket of goods and services around the world. Our basket is a burger: a McDonald's Big Mac.
The rates as per Feb 2007 indicate that a Big Mac in Australia costs US$2.67. In Britain, a Big Mac costs US$3.90. So it means my sister-in-law will be forking out around 50% more of her Australian dollars than she would for similar items in Australia.
The article has the following disclaimer:
[The Big Mac index] is only a rough guide, because its price reflects non-tradable elements such as rent and labour.
Rough it may be, but it is valuable in determining the relative value of currencies.
See the 4 Comments below.