The coming EcoBounty
By Murray Bourne, 10 Mar 2009
Trendwatching.com produces interesting "Trend Briefings" and provides food for thought for budding entrepreneurs. In the current employment mayhem, this is a good place for graduates to get ideas for their own businesses.
This month the topic is EcoBounty. The report covers 12 areas:
1. ECO-FRUGAL
2. ECO-STATUS
3. ECO-INTEL
4. ECO-STURDY
5. ECO-FEEDERS
6. ECO-GENEROSITY
7. ECO-SUPERIOR
8. ECO-EMBEDDED
9. ECO-EDU
10. ECO-TRANSIENT
11. ECO-VERTISING
12. ECO-EXPECTATIONS

As you read the report, notice the emphasis on "measurement" — of power and water usage, of re-cycling efforts and of location-based services. There are opportunities here for the math-savvy. Measuring carbon footprints, CO2 output, personal energy use will have a prominent role in the 21st century.
Sustainable schools
In the "Eco-Edu" segment, we read about a school in Bali, Indonesia: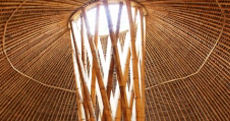 The Green School in Bali boasts a working organic chocolate factory, aquaculture ponds, organic vegetable gardens, edible mazes and perma-cultural gardens all located on a campus built entirely of low-impact and environmentally conscious materials.
Shouldn't all schools aim to be self-sustaining?
Opportunities
There are many opportunities for schools arising from this report. What kind of future are we preparing our students for? How long will the economic downturn last and what kinds of jobs will be lost (especially, for example, in the unsustainable auto industry) and created over the next 10 years? Green jobs obviously have some part in that future.
Also, research will also be key to the effectiveness of green technologies — and math is at the center of research.
Be the first to comment below.