The possible permutations are
ABC, ACB,
BAC, BCA,
CAB, CBA.
Hence, there are six distinct arrangements.
Another way of looking at this question is by drawing 3 boxes.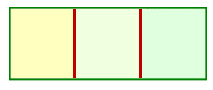 Any one of the A, B, C goes into the first box (3 ways to do this), and then the remaining one of the two letters goes into the second box (2 ways to do this), and the last remaining letter goes into the third box (only one way left to do this).
Hence, total no of ways `3 × 2 × 1 = 6`