Safari for Windows
By Murray Bourne, 12 Jun 2007
I just downloaded the beta of Safari for Windows.
It is very Mac-like (in the same manner as iTunes), including the scroll bars, the title bar and of course, the overall look and feel: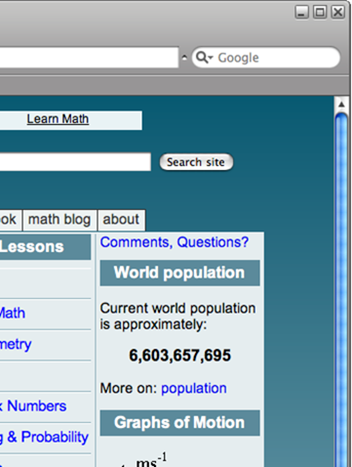 Overall, I liked playing with it. I haven't come across any sites that are broken (except Microsoft's, but what do you expect...)
It claims "blazing performance" and I have to say, it is quite good.
I like Snapback, which takes you back to a previous search window, even if you have moved on to other sites and gone down several levels.
I also like the Find (a word on the page) feature. You have a better idea where you are up to when tabbing through the results, compared to Firefox where you get to the end of a long page and then it jumps back to the first instance of the word, but unless you take note of the scroll bar position and/or the "you have reached the end of the page" message, you miss it.
The way it handles RSS is also smooth. You just click on the button:

and see a simple rendering of the feed. From there you can bookmark it and the number of new posts shows up on the bookmark tab (the "Add bookmark" link under "Actions" did not work, however.) The RSS implementation is similar to Firefox's.
Gripes
Apple have gone for the fuzzy font look, just as Micro$oft did with IE7. I don't like it, as it has the same effect as wearing someone else's super-strong glasses - it pull my eyes out. So I'll get rid of that soon, like I did with IE7.
An irritation I've always had with Safari is that when you want to type a new URL into the address bar, you can't highlight the whole address by clicking on it, like in Windows browsers. (Yeh, I know you click on the blue ball (globe) next to the URL,

, but that's not very intuitive.)
I have had several Safari popup windows open where the bottom 3 cm of the window is off the screen - not good.
Conclusion
But apart from those minor gripes, I like what I see and I will continue to use Safari for a while - and pretend I have a Mac...
See the 4 Comments below.